Madagascar's east coast: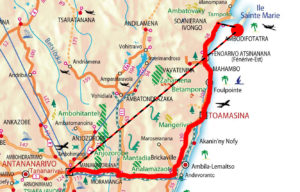 Tour from Andasibe to Ile Sainte Marie
When it comes to an adventurous, varied and unique Madagascar vacation then the east coast of the country is the right place for you. There, dreamlike beaches and stretches of coastline line up next to untouched mountain cloud forestsThe experience includes encounters with extraordinary animals and plants that are unique on this planet, intercultural encounters with the friendly and open-minded people of this region, as well as the contemplation of fascinating landscapes are on the agenda for you when traveling along the east coast of Madagascar. For these very reasons, some of our most popular Individual travel to the East Coast Madagascar. Therefore, in the following we would like to present you a specific tour that starts in Antananarivo and goes on the Sainte Marie Island ends. Thanks to numerous stops in unique national parks, on the water and in various cities, you have hardly countable possibilities to enjoy in this Madagascar vacation to gain unforgettable experiences.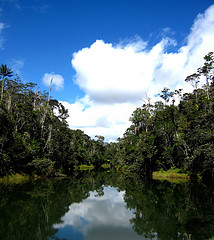 Exact info about the tour: 10 days
The tour presented here covers a period of 10 days, but can also be extended individually at your personal request and then for example 15 or also 22 days include. In addition, the various offers and stage destinations also include various Variation possibilities conceivable. Our Travel through Madagascar Finally, we always design in such a way that the greatest possible flexibility is provided for you, so that all your wishes and preferences can be taken into account. However, the following tour is like many Travel through Madagascar strongly dependent on external influences. External influences in this context primarily mean the weather, but also Malagasy holidays or folk festivals may require some flexibility during the trip or when planning the tour. It is all the more important that you trust us and our extensive know-how in designing and putting together the tour and that you address all wishes and special interests from the beginning. The tour plan that follows now offers you a good opportunity to discover what you can expect on this Madagascar vacation will expect.
Day 1: Start of the journey in Antananarivo
Already early in the morning of your Journey through Madagascar leave behind the colorful bustle of the Malagasy capital Antananarivo and head east. You are now on the road towards Tamatave and will spend a few hours on the busiest road in all of Madagascar. All around you presents the colorful and impressive landscape of the central highlands, before you reach the rugged Mandraka region immerse. Here also begins the denser forest and the green of the leaves becomes more and more vibrant. If you wish, during a stopover you will have time to visit the private reserve called Madagascar Exotique to visit. There you can get a first Contact with the Madagascan wildlife and see chameleons, geckos, snakes, tenrecs, frogs and butterflies in different variations. After lunch we continue directly to the so-called Analamazoatra Reserve. This area is home to many different nature reserves and national parks. Among others, Mantadia, the high moor of Torotorofotsy as well as the Andasibe National Park. For today's overnight stay you have two options: the classic hotel Feon'y ala or, for an additional charge, the somewhat more comfortable Vakona Lodge.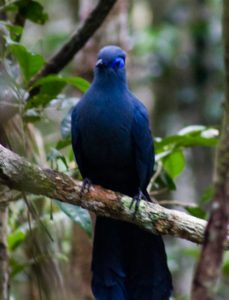 Day 2: Extensive tour through Andasibe National Park
The Andasibe National Park is a unique mountain cloud forest. Nowadays, very few of these extraordinary forest forms exist on our planet and on the second day of your trip you will have the chance to explore such a mountain cloud forest in detail with a guide. The largest part of the individually to your needs The tour, which can be customized, will be spent in the dense primary forest, which is home to many unique forms of life and which is truly a impressive spectacle offers. It rains here a good 250 days a year and that is exactly why this forest is so lush and impressive. In Andasibe National Park you will dive into a completely different world. You will discover animals and plants that you only know from television, but you can observe them in their natural habitat. Many of these animals are only Andasibe National Park or only at home on Madagascar and can nowhere else be discovered in the wild. A very prominent example of this are the so-called Giant lemurs, the Indri-Indris, famous for their distinctive singing cries, and which are now only reasonably safe at home in Andasibe National Park. Also the Finger animal, which attracts attention because of its somewhat bizarre appearance, is native to this national park. However, since this animal is nocturnal, you will most likely not see it during your stay. Instead, you might encounter gray bamboo lemurs, dwarf chameleons, boas and numerous other animals. The walks will be quite according to your personal wishes organized, so that you can spend up to five hours in the rainforest if you wish. Also on today's day you can choose between the two accommodations Hotel Feon'y ala or for an additional charge the Vakona Lodge ready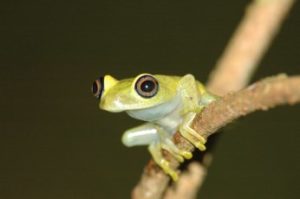 Day 3: It goes via Brickaville to Ankanin'y Nofy
After the extensive tour through the mountain cloud forest yesterday, today there is a slightly different program. You will leave the Analamazoatra area after breakfast and go by car Direction Brickavill. After a stay in the village, a boat transfer is on the schedule. With this you get to the Canal des Pangalanesfrom where you will continue directly to Ankanin'y Nofy. Here awaits you a magnificent resort directly on the famous canal. Relax with a wonderful bath and then spend the night at the Palmarium. Here you can also see the very rare Aye Aye (finger animals) observe
Day 4: It goes on to Tamatave
First of all, after a good breakfast, we will go back to Brickaville today. The Boat transfer offers you the opportunity to perceive the surrounding landscape from a completely different perspective. For example, you will pass by huge ravinala (tree of travelers). You will then continue Direction Tamatave, the most important port city in all of Madagascar. You will have the afternoon at leisure to stroll through the alleys of the city and get in touch with the people living there. In the evening you will have a good Middle class hotelwhere you can spend the night.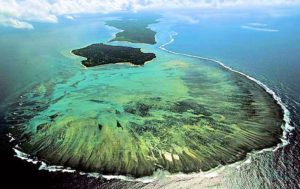 Day 5: The road takes you to the island of Sainte Marie
On the fifth day of your Journey through Madagascar you will reach the legendary Pirate Island Sainte Marie. For this, you will first head north early in the morning. Between the Indian Ocean and the shady forests and coconut plantations the road winds through. You will pass villages, rivers and smaller seaside resorts such as Foulpointe or Fenerive-Est. After a good three-hour drive, you will reach the end of the paved road. You are now in Soanierana Ivongo arrived, a downright tiny river port from which the crossing to Sainte Marie is possible. At the same time, Soanierana Ivongo is also the starting point for a possible further tour, which we will call the adventurous piste tour however offered in another of our versatile proposals. When you arrive at the port, you leave the guide and driver with the boarding of the boat. Although we take over for you the Organization of your stay on the island of Sainte Marie, but the escort ends at this point. After a good three-hour crossing you will reach Sainte Marie and spend the night in a bungalow near the beach.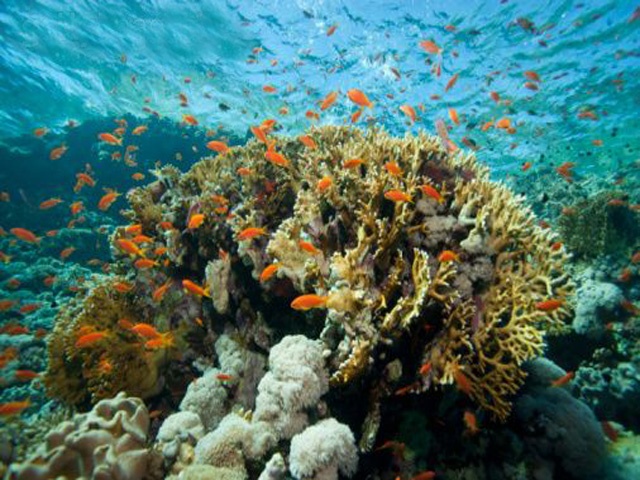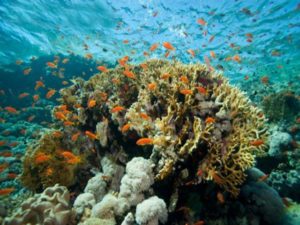 Day 6: Extensive exploration of Sainte Marie
Basically, you have many options to enjoy the stay on Sainte Marie. It is possible to see a large part of the island very comfortably explore by bike. If you feel more like an adventurous tour, you can also request a Motorcycle or a quad rent. For water lovers offer Snorkeling or diving trips on which the fascinating coral reefs in front of the island can be explored. Swimming or relaxing on the beach is of course also possible. Between June and September numerous Humpback whale families watchingthat move through the water with their young. Also highly recommended is a Visit the famous pirate cemetery for Ambodifotrata, there are numerous waterfalls and the miles of sandy beaches on the west coast of the island are worth seeing as well as the craggy rocks on the east coast. The overnight stay is again in a middle class bungalow near the beach.
Day 7: Excursion to Ile aux Nattes
Today we have for you a individual excursion Already in the morning you leave for the airport, but then you board a pirogue and let yourself be carried over the water to the Island Ile aux Nattes bring. There you will undertake a excursion lasting several hours and let yourself be taken in by the fascinating adventures on this island. On the island also awaits you a delicious lunchbefore returning to the island of Sainte Marie in the afternoon. Today you will also spend the night in a bungalow near the beach or a middle class hotel.
Day 8 and 9: Excursions and sightseeing on Sainte Marie
Various excursions are on your program during these two days. If you rent a motorized vehicle, you can participate in the so-called Ampanihy paradise stop and enjoy an excellent lunch there. This can be followed by a Pirogue ride across the lagoon of the same name. At an offshore headland, a lonely sandy beach awaits you, which will draw comparisons with tropical paradises on postcard motifs does not need to shy away. In the afternoon we will return home. You will spend the night in a hotel or bungalow.
Day 10: Return flight to Antananarivo
The tenth day begins with the farewell to the island of Sainte Marie. You travel back to Antananarivowhere you will be met by your driver and guide at the airport. Depending on the arrival time, you can now, if you wish, still have a Trip to the city undertake before this tour comes to an end
Facts and figures about the tour
This tour, like all our Travel through Madagascar tailored to your individual needs. Unlike many other offers from our program, you can even choose between different Accommodation decide. We ask you to consider the following cost listing and also take a look at the included or not included services to throw. In this way, you can calculate precisely what costs will be incurred with a Madagascar vacation approach you. This kind of transparency is very important to us, because we are only truly satisfied when you are.
| | |
| --- | --- |
| Antananarivo to Sainte Marie - 10 days | Price per person |
| 2 to 3 guests | 2380 euro |
| 4 to 5 guests | 2190 Euro |
| 6 - 7 guests | 1.920 Euro |
| 8 - 9 guests | 1.860 Euro |
| 10 guests and more | 1.540 Euro |
For single rooms we have to charge a supplement of 490,00 Euro per person.
Included in the basic price:
Accompaniment by English or German speaking tour guide (not on Sainte Marie)
Four-wheel drive car including driver and diesel (not on Sainte Marie)
all logistics services
all nights including half board with breakfast and dinner
Entrance fees for Madagascar Exotique and Andasibe National Park
Boat transfers to Sainte Maire and Ankanin'y Nofy
Pirogue trip to Ile aux Nattes
Not included in the basic price:
Lunch and drinks
Local guides in the National Park
All flights plus airport fees and taxes
Insurances
Tips
optional leisure activities and excursions
personal expenses