Car rental with driver in Madagascar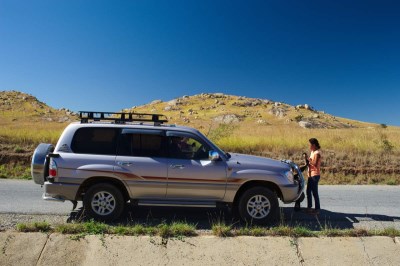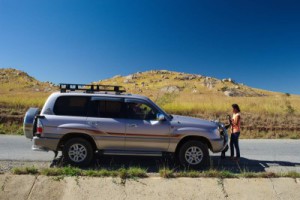 Every trip to Madagascar stands and falls with successful logistics. As a developing country, Madagascar has all the typical phenomena that make a trip more difficult than in other parts of the world. These include not only the often very bad roads and tracks, which in some areas change their course from year to year. Also signposting and appropriate assistance for travelers are almost always sought in vain.
If you don't necessarily want to travel around the country with the typical shared cabs, the "cab brousses", which is not without risk and stress, you will hardly get around renting a car!
There are always people interested in Madagascar who absolutely want to rent a car for self-driving. Their experiences in countries like Namibia, South Africa or elsewhere lead them to the insane opinion that one can also reach the destination in Madagascar well as a self-driver. Since in most cases a four-wheel drive car is required and these people have a fair command of the often not easy operation of such vehicles, the fallacy is obvious that an individual drive with a rental car is a tempting alternative.
We strongly advise renting a car including driver for several reasons!
While the driver can assist with hotel reservations and general logistics, it is not a tour guide who handles the complete planning and logistics of a trip.
For one thing, a driver's local and language skills are practically irreplaceable. Especially in remote regions, you can get lost very quickly and get into serious trouble. No GPS will help - especially since there are no exact, detailed maps!
On the other hand, it is the rule that the roads are also walked by herds of cattle. In the villages or even outside, people, feathered cattle, dogs and other inhabitants of the red island often appear on the lane. The risk of an accident is incomparably higher than in Europe!
While it is almost normal to kill a chicken or to graze a dog while driving, we don't even stop for that. More problematic are accidents involving people: liability insurance in our sense does not exist. As a white tourist you quickly find yourself in enormous trouble in such a case. This may mean imprisonment and immense costs!
In addition, there are many roadside checks by uniformed people who often just want to "cash in" because something is allegedly wrong with the vehicle documents. This is annoying and costs time and money if you don't know your way around!
And finally, you always have to expect a breakdown or simply impassable routes. Without a driver who can order help and spare parts via his cell phone, you're practically out of luck!
It is not for nothing that hardly anyone in Madagascar rents a car without a driver. The few agencies that were on the market in the past with this difficult business model have learned from painful experience and no longer do this.
The costs for the driver are extremely moderate and hardly add to the total price - they are included in the rental price anyway. We employ only reliable and competent drivers who know the country and its people and, on top of that, are fluent in at least one relevant foreign language spoken by the guests. A German-speaking tour guide can join the trip for an extra charge.
The technical condition of our vehicles is a point that is particularly close to our hearts.
Comfort and safety are indispensable components of a successful trip. Therefore, our vehicles are intensively maintained and cared for - for this, our drivers may not wash the cars every day, as do the drivers of the countless rust buckets that are on the road in the country and bring the travelers more poorly than not to their destination (or not).
We will select the right type of vehicle and driver for you and ensure that you travel safely through the country.
The prices below are valid for paved roads and easy slopes, for more demanding slopes tours the price is calculated on an individual basis.
Ask us!
| | | | |
| --- | --- | --- | --- |
| Vehicle | Fuel | Places | Prices per day |
| Off-road vehicles | | | |
| Toyota Land Cruiser | Diesel | 4 | 110 € |
| Nissan Patrol Y 61 | Diesel | 4 to 6 | 110 € |
| Toyota Land Cruiser II | Diesel | 4 | 110 € |
| Hyundai Starex | Diesel | 6 | 110 € |
| BUSSE | | | |
| Mercedes Sprinter | Diesel | 14 to 18 | 140 € |
| Bus Hyundai or Toyota | Diesel | 18 to 21 | 180 € |
Conditions for car rental in Madagascar
Rent
The appropriate vehicle will be rented in Antananarivo or exceptionally in Antsirabe. The driver will be at your disposal from 6 am until about 7 pm. The car cannot be used at night, except in cases of extreme emergency. The cost of gasoline is not included in the indicated price. The kilometers are unlimited.
Expenses for the driver
All costs for the driver (food and accommodation) are included in the price.
Gasoline
The cost of gasoline is paid by the renter. The car starts the tour with a full tank of gas and is refueled by the renter at the end of the trip.
Return of the vehicles
All vehicles must return to their starting point. The round trip of the vehicles will be calculated as follows: Antsirabe or Fianarantsoa to Antananarivo (one day), Tuléar to Antananarivo (2 days), Tamatave to Antananarivo (1 day), Morondava to Antananarivo (2 days), Fort Dauphin or Diego Suarez to Antananarivo (3 days). Gasoline costs for the return trip are paid in full by the renter.
Solutions for possible breakdowns
Although we place a great emphasis on vehicles that are as good as new or at least in perfect condition, breakdowns are always possible in road conditions. A replacement vehicle will be provided and sent to the zone where the breakdown occurred in the best possible time frame. The corresponding days that the guests have to wait for the replacement car will not be charged.
Down payments
After the firm reservation, a deposit of 30% of the total price is due.
Payment
The final invoice must be paid in full before the start of the tour.
Prices
The basic prices shown are calculated for paved roads only. For slopes, there are surcharges corresponding to the levels of difficulty, which are calculated individually when planning the trip.