Madagascar's Tsingy of Namoroka: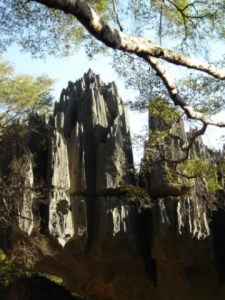 The unknown "Tsingys
The Tsingy of Namoroka have a total area of 223 km² and have been protected since 1966. However, they received the status of national park only in 2002. The national park is located in the Northwest of Madagascar about 200 km southwest of Mahajanga and 50 km south of Soalala. This almost unknown park belongs to the same protected areas as the beautiful Baly Bay National Park. Namoroka offers a wide range of landscapes and ecosystems, mainly grass and shrub savannas with incredibly imposing baobab trees (Baobabs) and dry deciduous forests, which are located below the Tsingy. This magnificent landscape is characterized by subtropical forest, gorges, swamps, rice fields, beautiful natural pools and mysterious caves. The here especially impressively fissured Tsingy formations and the rich wildlife are attractions in themselves. The park is not accessible during the hot rainy season in the months between November and March. During the long and completely dry period of April till October but Namoroka can be visited. Temperatures can still be very high even in the southern winter.
The unique creatures of the Tsingy of Namoroka N.P.
The abundant wildlife can very well keep up with the breathtaking landscapes: 18 mammal species are native to the park, including fossa and 8 species of lemurs. Birds are also present with more than 80 species (70% endemic) widespread. Also 5 Amphibian and 30 species of reptiles live in Tsingy of Namoroka N.P., including the locally endemic black and yellow striped snake and the big-headed turtle. Among the 220 plant species, which grow in the various forests and savannas are more than 100 endemic to Madagascar. There are several long and quite hard hikes through the Tsingy itself and the surrounding forests. Also the Secrets of the many caves you can explore during a visit. However, you definitely need a qualified guide for a hike in the Tsingy of Namoroka N.P..
Your journey to the Tsingy of Namoroka N.P.
Currently, there is no infrastructure to allow tourists to stay overnight in this park. If you want to visit the park, you must complete the formalities in the Parking office in Soalala arrange. The journey is also relatively difficult because of the poorly developed roads. The starting point for a trip to the Tsingy de Namoroka should be Mahajanga (Majunga). After crossing the bay, you will reach Katsepy and from there you can continue on the poor roads to Soalala. From there an unpaved road leads to Namoroka. Inside the park there are a few campsites with very simple equipment. However, you can almost certainly stay with the locals. The people living here Sakalava are a Pasture Folk. The great Meaning of zebu cattle as the daily struggle with the harsh climatic conditions of the Sakalava is considered exemplary for large parts of the population of the island.