Madagascar's Montagne d'Ambre: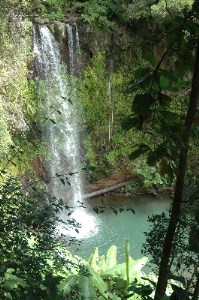 mystic amber mountain in the north of the red island
The Montagne d'Ambre (Amber Mountain) National Park is located about 30 km south of Antsiranana in the north of the island nation. The national park was founded in 1958. The massif has an area of 18,200 hectares, is located in between 800 and 1,470m above sea level and offers, also because of the different altitudes, a great diversity of species. It is a huge tropical forest with endemic flora and fauna, lush vegetation, many waterfalls and idyllic crater lakes. Especially Tribes of the Sakalava and Antankarana live in the region.
The best time to visit the park is between September and November. Although it rains from time to time, the pleasant warm temperatures make all the animals active. The chances here the extensive flora and fauna in its entirety Splendor to experience are greatest during this time. Between December and March, many rage Cyclones in the area. You should avoid the northern areas of Madagascar during this time.
The flora and fauna of the Montagne d'Ambre National Park
A large number of animal species populate the National Park: 25 species of mammals, 6 of which are carnivores, such as the ringed mongoose and the fossa, as well as 8 lemur species live at Amber Mountain. Sanford brown lemurs, crowned lemurs, Lesser bamboo lemurs and five species of nocturnal lemurs also have their natural habitat here. The forests are also home to 75 different species of birds, of which 35 are endemic. In addition, there are 60 species of reptiles such as the tiny stub-tailed chameleon, leaf-tailed geckos and snakes, as well as 35 Frog- and more than 40 different colorful butterfly species. In the Montagne d'Ambre National Park dominate three ecosystems: mountain rainforest, low mountain rainforest and dry deciduous forests. Especially botanically interested people like to travel to the Montagne d'Ambre National Park. More than 1000 different plants can be found here.