Madagascar's Tsaratanana: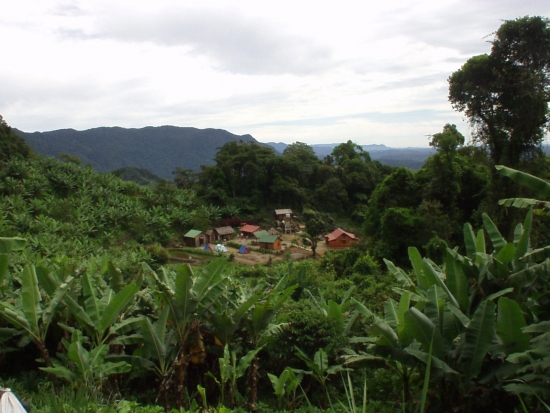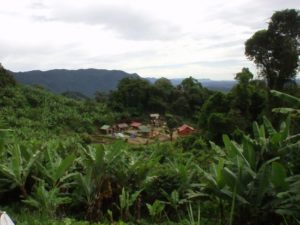 Reserve on the slope of sharp rocks
The Tsaratanana Reserve is located in the North Madagascar and takes on a special role due to its location: it is connects the ecosystems of the tropical forests with those of the volcanic mountains around the Maromokotro. The reserve has thus a Particularly high biodiversity and is home to many endemic and endangered species: 20 endangered mammal species live in Tsaratanana. About half of them are lemurs. The black lemur, considered the rarest lemur in the world, is also native to Tsaratanana. In addition live over 90 strictly protected bird species in the area: the Madagascar snake eagle, the red owl, the yellow-bellied sunbird and the crested ibis are native to Tsaratanana. Also a variety of reptiles and amphibians live in this unique Vegetation, which differs greatly in its nature according to its altitude. Up to 2,000m, mainly palms, lianas, tropical precious woods such as rosewood and ebony dominate the humid, dense forest. In the mountain forest between 2,000 and 2,500m above sea level, bamboo is found above all, while at the highest altitudes shrubs and grass savannahs describe the landscape.
Tsaratanana: source of the northern forests
Tsaratanana Integral Reserve is located about 60 km north of Bealanana village and 80 south-east of Ambanja. In total, the reserve covers an area of 486 km² of intact tropical forest, which encloses the impressive Tsaratanana Massif with its deep slopes and sharp ridges. Within the nature reserve spring the main watercourses for the surrounding area. The Bemarivo, Sambirano, Ramena or Mahavavy rivers have their sources in the reserve and feed the entire area with crystal clear water. The area has been under special protection since the times of colonization and was officially declared a protected area in 1966. It also includes Madagascar's highest mountain, Maromokotra at 2,876m. Today Tsarantana is a nature reserve of the highest level and thus may only be entered for scientific purposes.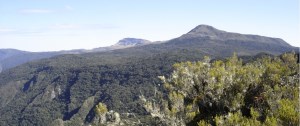 A paradise for scientists and researchers
Scientists it is possible for their research to be Trekking tour with porter to explore this impressive volcanic granite massif.The summit can be reached within a week with luck. However, it is advisable to plan the trip generously. The reserve can be reached via Three inputs enter. Since the reserve is not open to visitors, the infrastructure is correspondingly poorly developed. The best condition is the northern entrance, which visitors reach via a bumpy road from Ambanja to Ambobaka. From the south-west, the reserve is reached via a trail from Ambanja to Marotolona and then along a secondary trail to Beangona Ambevy. The southern entrance is the most impassable: access is via Antsohihy and Bealanana. From here you continue traveling north along a terrible dirt road to Mangindrano. The entrance to the reserve is reached after another 40 km to Maromokotra. These slopes are only passable in the dry season between June and November.