14 days Madagascar individual trip from Antananarivo to Tulear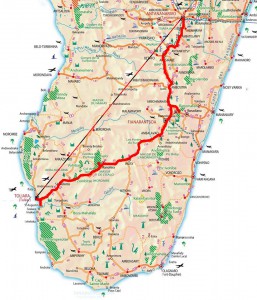 If you want to experience Madagascar as an island in its full splendor, you should Madagascar vacation concentrate on a round trip. We have designed our 14-day individual tour, which we would like to present below, in such a way that the diverse landscapes of Madagascar as well as smaller local projects, several nature parks and fantastic bathing possibilities. The 14 days trip through Madagascar can also be extended or customized according to your individual wishes. All you need to do is send us an e-mail. We will then contact you directly and discuss what is possible. The same applies, of course, if you have any questions about the following information on this individual tour.
Day 1: Arrival in Antananarivo
The first day is initially dedicated to the Arrival in Madagascar. We will pick you up after your landing at Ivato airport in the Malagasy capital Antanarivo and take you to your accommodation in the Villa Sibyl. Should you still need for your arrival Wishes in the form of food and drinks, it is best to let us know in advance so that we can take care of it.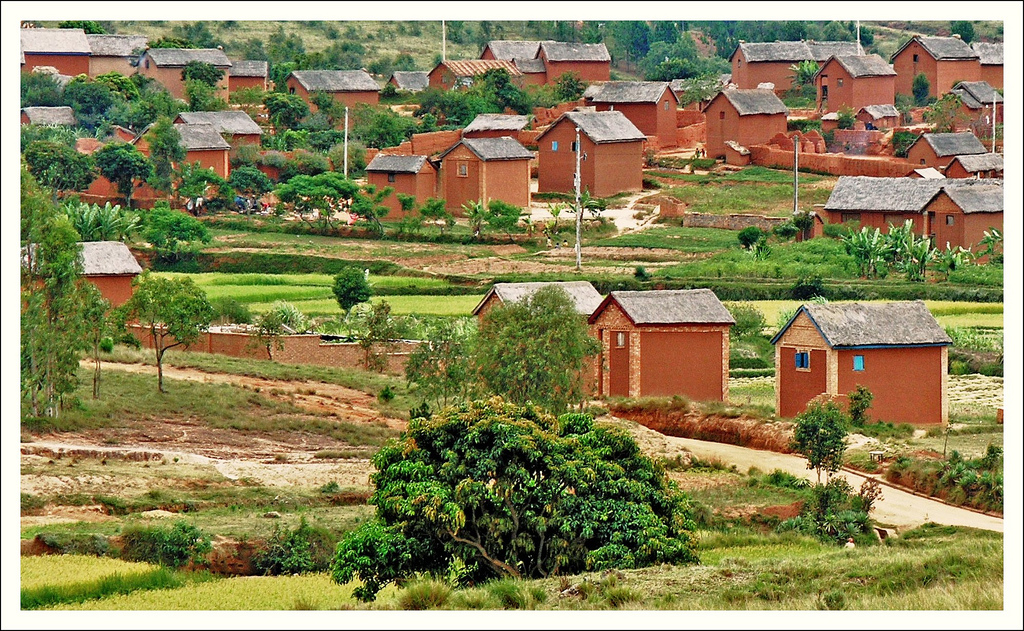 Day 2: Drive from Antananarivo to Antsirabe
On the second day of your 14 days trip through MadagascarYou will travel from the capital Antananarivo to Antsirabe. The journey takes you first through the colorful hustle and bustle of the suburbs the capital and then through Behenjy and Ambatolampy. In one of these two places you will have a lunch break and you can strengthen yourself in one of the restaurants there. Afterwards you will continue to Antsirabe, a important business location in Madagascar. The distance from Antananarivo to Antsirabe is about 170 kilometers and is lined with exciting landscapes. Antsirabe itself inspires with its attractive colonial villas and its European look. The overnight stay is in the hotel Chambres du Voyageur in whose garden, with a little luck, numerous chameleons and even ray turtles can be discovered.
Day 3: Drive from Antsirabe via Ambositra to Ranomafana
On the third day of the trip you will first have the opportunity to enjoy a exciting reforestation project to visit. Orange trees are cultivated in this project for reforestation purposes. Afterwards we drive directly to the nearby Ambositra, a small town, which is mainly known for handicraft carvings from precious woods has become famous. After lunch and a short tour we continue to the so-called Ialatsara Lemurs Forest Camp, where already numerous lemurs waiting for an encounter with you. At the Ialatsara camp is a private reservewhere the animals can live under optimal conditions. After an extensive walk through the reserve we continue to the Mountain Cloud Forest or to the Ranomafana National Park. On the way there you will again see breathtaking landscapes and increasingly green vegetation. In the evening you can enjoy a relaxing bath in a Thermal swimming pool as well as the overnight stay in the hotel Grenat.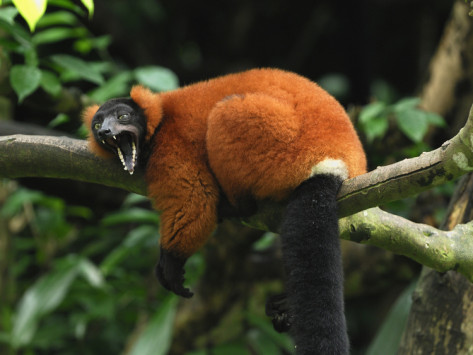 Day 4: Visit Ranomafana National Park
The Ranomafana National Park is on the fourth day the goal of your Journey through Madagascar. The park covers more than 40,000 hectares and is located about 1,300 meters above sea level. Numerous different species of lemurs, insects, birds, frogs and reptiles are at home in the mountain forest and with a little luck you will get to see some particularly spectacular specimens and in front of the camera lens. The concrete arrangement of the day in Ranomafana National Park is depending on your individual wishes and constitution. The overnight stay will be this day again in the hotel Grenat, where you can enjoy the extraordinary Adventures of the day can recover.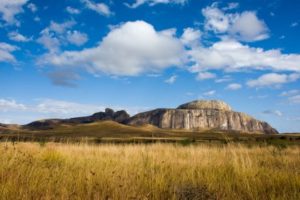 Day 5: Drive from Ranomafana via Fianarantsoa to Ambalavao
After the exciting Tours of Ranomafana National Park the journey through Madagascar continues on the fifth day of the trip. It goes through many small villages where you can get an impression of the Habits of the Malagasy can catch a glimpse of, and through extraordinary landscapes, some of which alternate very quickly. In Fianarantsoa we will have a rest, during which you can look around the town a bit and, if you wish, observe an internationally famous photographer at work. After that we will go further south. If you look out the window during this stretch of road, you'll spot towering granite boulders, blood-red laterite soils and ever-leaner grasses - an unmistakable sign that the southern part of Madagascar is getting closer and closer. Once in Ambalavao, there are several options available to you. A visit to a nearby village, where a drinking water well project has been implemented by us for over ten years, is a possible stop, as is the local zebu market, which is indeed always a real spectacle. The overnight stay this evening will be at the hotel Tsienimparihy Lodge held.
Day 6: from Ambalavao to Ranohira to Isalo National Park
The sixth day begins with a Hike to a private reserve with the name Anja Park. This reserve is about three hectares in size and is home to numerous Kattaswho are already waiting for your visit with their fun-loving nature. In addition, you can in the Anja Park but also numerous reptiles as well as burial caves and spiritual meeting places of the Betsileo tribe. Afterwards we will continue our journey by car and head south again. Towards afternoon our arrival in Ranohira is already expected. This stop will take us to the Isalo National Parkwhich, however, is our destination only the next day. First there is a comfortable overnight stay at the hotel Isalo Rock Lodge (4****).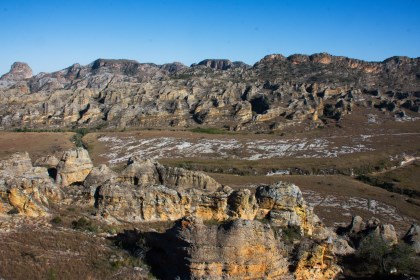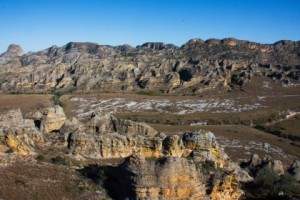 Day 7: The Isalo National Park
On the seventh day you will go to one of the most famous national parks in Madagascar, the Isalo National Park. This is a huge mountain massif where granite and sandstone sculptures alternate with waterfalls and tropical nature. The entire national park includes more than 80,000 hectares of land and offers you a maximum of scenic variety. The level of difficulty and also the length of the tour through the park are adapted to Your personal wishes as well as adapted to your conditional requirements. After the exciting day trip follows again an overnight stay in the hotel Isalo Rock Lodge (4****).
Day 8: Drive from Ranohira via Ilakaka to Sarondrano
On the eighth day of the Journey through Madagascar Say goodbye to Ranohira and go by car to Ranohira. further south. Along the way there are several opportunities for Excursions an: Ilakaka Sapphire Mine, Zombitse Vohibasia National Park or the giant Baobab trees are just three possible examples. You will leave Tulear behind you and then directly go to Sarondrano. Here extends a stunning headland into the sea and beautiful dream beaches await you. The overnight stay takes place in the Résidence Eden Lodge an excellent guesthouse, which is still considered a real insider tip on the island.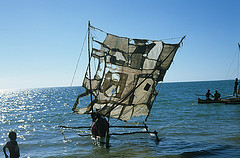 Day 9 to 11: Stay in Sarondrano and the surrounding area
Days nine to eleven on your Journey through Madagascar are all about various day trips and individual activities. During these three days you will stay exclusively in Sarondrano and the nearby surroundings, staying throughout the night in the wonderful Résidence Eden Lodge. Your daily program you can Assemble yourselfWe will gladly support you in this to the best of our ability: Relaxing hours on the dream beach are just as imaginable as sailing trips, diving or a boat trip to the humpback whales. Simply contact us and we will take care of a Program package, which corresponds to your individual wishes.
Day 12: Flight from Tulear to Antananarivo
The twelfth day is from Spirit of optimism characterized: After the relaxing days in Sarondrano, it's back to Tulear and from there by plane directly to the capital Antananarivo. Depending on the time of day you can then still explore the surrounding area, otherwise it goes directly to the hotel Villa Sybille or to an exceptional restaurant with excellent dining options.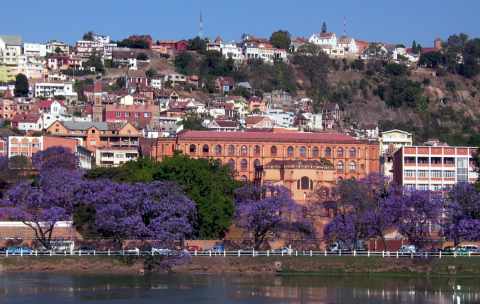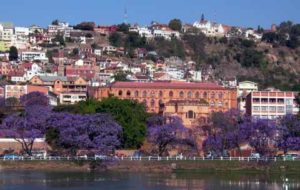 Day 13: Stay in Antananarivo and the surrounding area
On the penultimate day of your exciting journey through Madagascar the capital of the island state is once again on the program: In Antananarivo, you will have numerous opportunities to go on Discovery tour to go. An example of a real attraction is the Lemurs Parkwhere many of the cute animals can be studied in detail. For this day we have a Day Use in the Villa Sybille so that you can store your luggage there and freshen up in the evening, if necessary, before we take you to the airport.
Day 14: The return flight to Europe
The last day of your 14 days vacation in Madagascar is entirely devoted to the return journey. This day you will on the plane to Europe and presumably learn about the different experiences and impressions of their Journey through Madagascar dream
Facts and figures about the tour
As already mentioned above, you have with this Journey through Madagascar numerous possibilities for a individual recreational activities. If you need help, for example, to fill the days in Sarondrano with activities, we will be happy to help you with numerous recommendations and assistance. Different sections of the tours can be additionally individualized on request become. All you need to do is contact us. Together we can then ensure that your Madagascar vacation becomes a real dream.
Various connection tours can harmoniously enrich this trip, we adapt the possibilities to your wishes and expectations.
Below you can see the list of costs as well as the services included or to be paid by the customer:
| | |
| --- | --- |
| 14 days tour from Antananarivo to Tulear | Price per person |
| 2 to 3 guests | 2190 € |
| 4 to 5 guests | 2080 € |
| 6 - 7 guests | 1990 € |
| 8 - 9 guests | 1850 € |
| 10 guests or more | 1790 € |
For single rooms we have to charge a supplement of 480 €.
Integrated into the basic price:
English or German speaking tour guide
Accompaniment and logistics
all nights
Breakfast and dinner
Transfers and trips as specified
Four-wheel drive car and driver and fuel
Not integrated into the basic price:
Lunch
personal expenses
German speaking tour guide possible with surcharge
individual leisure activities
Entrance fees to the national parks (about 20€ per person and per park)
Sightseeings and excursions (about 20€ per person and per park)
national and international flights
Visa (available at the airport for 25€)