A canoe river trip on the Faraony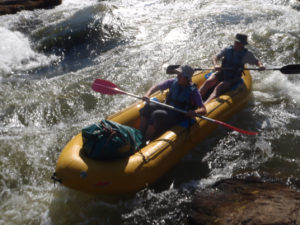 Even if many people are of the opinion Madagascar would be a thoroughly dry island, there are on this island numerous rivers and waters to marvel at, which are worth exploring. The River called Faraony is an ideal destination for such a journey of discovery, because it offers all kinds of adventures as well as numerous great experiences. We have put together a tour of the Faraony that includes a total of lasts exactly three days and you from Fianarantsoa to Manakara brings. Along with the canoe ride on the Faraony is also a small Tour with the so-called jungle express. This is a rail link to the east of Madagascar, which in itself can be considered a real adventure.
If you feel like Get to know Madagascar in an extraordinary way or perhaps looking for an alternative to the typical way of exploring by car, then this small but nevertheless very fine canoe tour should be just right for you. If you want to pass on this tour, you don't have to show any special physical fitness, but simply bring along fun in the fresh air. In order to give you a better understanding of the various stations and procedures on the tour, we have compiled the most important details in an informative way below. If you additionally more information or if you would like to book the tour together with us, all you need to do is contact us with confidence and you will be able to book in your Madagascar vacation a really extraordinary adventure experience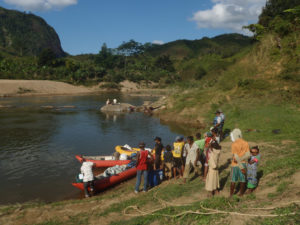 General information about canoeing on the Faraony River
The Faraony River is not only popular with foreign tourists who want to enjoy a canoe trip, but also exerts a strong influence on many Madagascans. an almost magnetic attraction out. However, this is not necessarily because they also like to take a trip on the river, but because the Faraony has some really valuable treasures houses. More precisely, gold can be found in the Faraony River. Numerous gold prospectors you will encounter on your crossing and that alone makes this trip an impressive experience.
As has already been indicated, physical fitness is not too crucial in this tour, since the Faraony is rather few rapids or challenges revealed. However, as with all water tours, it is recommended if you can swim. We provide drinking water during the trip as well as good equipment, camping utensils, and a well-assembled team for the tour. Drinking water is either brought along in sealed bottles or during the tour. prepared by filtering. In addition, we wash all food intended for consumption on the trip with lightly chlorinated water to maintain food hygiene at all times. The tour guide during the ride will be either the German or at least the English language be powerful, so you do not have to fear any communication problems.
The exact tour plan for the trip on the Faraony
This tour across the Faraony is a short stage, which can certainly be incorporated into a larger tour. Also, this canoe river trip could become a stopover on the trip to the east coast or along the RN 7. In principle, many possibilities are conceivable and we will be happy to help you plan the tour quite precisely.
Day 1: Going to Manampatrana
You start the tour in Fianarantsoa, where we offer you an overnight stay in the wonderful Lac Hotel can recommend. Breakfast at this hotel is the first point of the itinerary and will give you ample strength for the day ahead. Ahead of you now lies first a very special train ride, which take about half a day and you to Manampatrana will bring. There lies the Faraony River, which meanders between numerous rice fields. Once the train has continued south, you will see the impressive atmosphere of the place very quickly. A pleasant calmness and relaxation are in the air, which can hardly be put into words. You now board the canoes and get it right away with a few easier rapids to do with the Classes I and II can be classified. After a relaxing ride, the Camp on the bank of the river and you will be spoiled with a delicious and freshly prepared meal. The team of course takes care of the preparation of the meals on their own and attaches great importance to the regional cuisine. If you wish, in the evening you can still enjoy a little explore the area and let the impressive nature of the region take effect on you. The starry sky, which will present itself to you at night, shows itself as an absolutely romantic highlight.
Day 2: The water is waiting
The second day this little tour through Madagascar is all about the canoe and is spent almost exclusively on the water. Numerous beaches and also wonderful rock formations lie to the right and left of the banks and offer, for example, hardly countable breathtaking photo motifs. Then you reach the Onilahy River. During this day you will meet many friendly locals, who now and then will also provide a stop not foreseen. Enjoy this pleasant atmosphere of lightness and informalityBefore you spend the night again in a camp on a sandbank in the evening.
Day 3: Going to Mahabako Railway Station
On the third day of the boat tour you will travel on the river to Mahabako railroad stationwhere the tour ends. From here on, the river would not be very pleasant to pass for inexperienced canoeists anyway, as it now becomes much wilder until it then flows into the Indian Ocean. Some planning requires the Continuation by trainbecause this does not run on all days. Therefore, you should not simply take this tour on good luck, but rely on our experience and knowledge. In the evening you will meet in Manakara from where you are welcome to make further trips and tours. However, the services of this tour package end in Manakara.
Facts and figures about the tour
We plan our various tours and travel offers not only with great attention to detailbut also from the aspect of giving you a Maximum transparency to make it possible. We do everything in our power to ensure that Your vacation in Madagascar will be an experience that you will remember for a long time. Therefore, we do not want to burden you with hidden costs, but would like to show you below what is already included in the price we estimate and where you still have to cover costs out of your own pocket on site. Three days in full board for this trip cost total 680,00 Euro per person.
Included in the basic price:
the complete logistics as well as the accompaniment by a German or English speaking tour guide
All-wheel drive car including driver and diesel
all overnight stays during the tour
Full board including breakfast, lunch and dinner
Canoes and related equipment
Camping equipment
Not included in the basic price: