Exclusive discovery tours - relaxed sailing trips aboard the "Blue Maki
Madagascar is known for its unique beaches and biodiversity. The endless sandy beaches and underwater worlds speak for themselves. If you are looking for a relaxing vacation while experiencing the diversity of Madagascar, a cruise is just what you need. Enjoy the fantastic view on board of the "Blue Maki" and explore the most beautiful places in just a few days. Pet lemurs or explore the underwater world - snorkeling with sea turtles. We will take you to the most dreamlike corners of the island and show you the most worth seeing places, without any hustle and bustle. Relax on deck while the "Blue Maki" takes you quickly and safely to the most breathtaking places. The sailing ship offers enough space for a comfortable stay with accommodation in air-conditioned double rooms.
Your catering is also taken care of: dinner under a clear starry sky or lunch in the bright sunshine will put you in the vacation mood and ensure your well-being. Sufficient beverages are provided. If necessary, you can bring your own alcoholic beverages on board. Different day trips for every taste complete the program: Go on a discovery tour or enjoy quiet sun hours on white sandy beaches. According to your personal wishes, you can choose the tour that suits you best. We offer you exciting shore excursions on which you will get a varied insight into the culture of Madagascar. A mixture of active day trips and relaxing hours on board ensure a balanced stay with experience guarantee. Choose between 3 days and 2 nights, 4 days and 3 nights, 5 days and 4 nights or 7 days and 6 nights. We will leave you amazed and provide unforgettable adventures. You can find more information about the exact daily schedule in our program.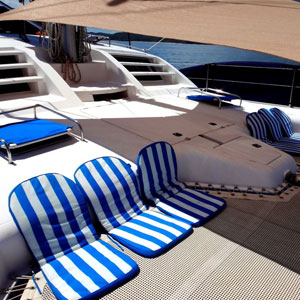 Costs and details
The Blue Maki daily rent is 830 euros or 2,905,000 Ariary.
Full board for adults: 60 euros or 210 000 Ariary per person per day.
Full board for children up to 10 years: 30 euros or 105 000 Ariary per person per day.
Cost in high season from 01.07.2017 to 05.01.2018
Blue Maki daily rent is 850 euros per day or 2,975,000 Ariary.
Full board for adults: 60 euros or 210 000 Ariary per person per day.
Full board for children up to 10 years: 30 euros or 105 000 Ariary per person per day.
Cost in low season from 15.03.2017 to 30.06.2017
Entrance fees to Tanikely and Antsoa parks are included in the price: 20,000 Ariary per person (for south cruises) (Our Blue Maki offer is the only one that includes this cost.) Only the entrance fee to Nosy Hara Park is an additional 55,000 Ariary per person per day in the park (for north cruises).
Drinks, soft drinks, beer, mineral water, red wine (5 l), whiskey, pastis (anise schnapps) and rum are included as long as available on board. (Our Blue Maki offer is the only one that includes these costs.) Guests are allowed to bring self-purchased alcohol on board without any problems. (Our Blue Maki offer is the only one that allows this).
Transfers from the hotel to the port and back to your hotel, are also included. Transfers from the airport to the port and from the port to the airport, are included in the price only if the customer goes on cruise directly after landing or continues his flight directly after the cruise. For any stopover at the hotel, airport transfers are not included.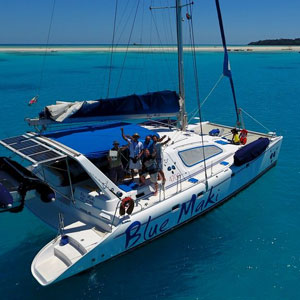 Your sailing ship, the "Blue Maki
The boat Leopard 47, was built in South Africa
It is 14.40 meters long and offers you a total area of 130 square meters. It offers 4 air-conditioned double rooms, which all have private bathroom with hot water and shower.
Technical details
14.40 m long - total area - 7.20 m wide and 130 m2 area
2 engines - 56 hp Yanmar
Desalination plant (800 liters autonomy), solar panels and electricity 12 volts and 220 volts.
Draft 1.40 m, draft 20.40 m
Electronics Furuno - autopilot, chart plotter, GPS, depth sounder, wind vane, anemometer, maxsea, VHF (fixed and mobile)
Cockpit at the front
4 air-conditioned double cabins with private bathroom and WC with hot water
Satellite phone + mobile VHF + Hifi stereo and DVD screen
Fishing equipment with caster, popper fishing, normal fishing rods
2 kayaks with motorized attachment (3.80 m, 10 hp motor).
Travel options - Sailing tours
Canoe Tours - Discover the most beautiful sides of Madagascar from the water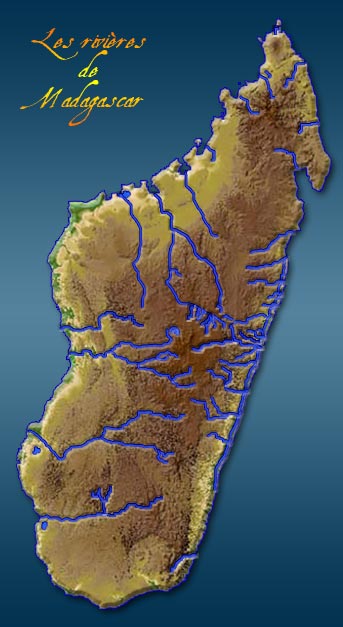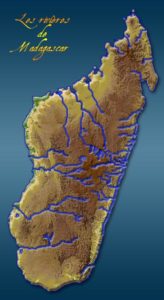 Whoever thinks of Madagascar is initially under the misapprehension that this island is a purely arid region. In fact more than 50 different rivers over the surface of the land and offer numerous opportunities to explore this unique island not by land, but to discover on water. Together with our partner Gilles Gaultier, who has already been exploring Madagascar by canoe for about twenty years, we are therefore constantly developing numerous new tour suggestions, which gives you a exciting mixture of sporting activity and breathtaking experience. Our tours are normally designed for beginners, which in terms of canoeing can not necessarily speak of a great expertise. In principle, however, there is always the possibility of Difficulty level of a tour to discuss with us. Finally, we would like to thank you for your Madagascar vacation accommodate you as much as possible. Accordingly, you are always welcome to contact us with questions or suggestions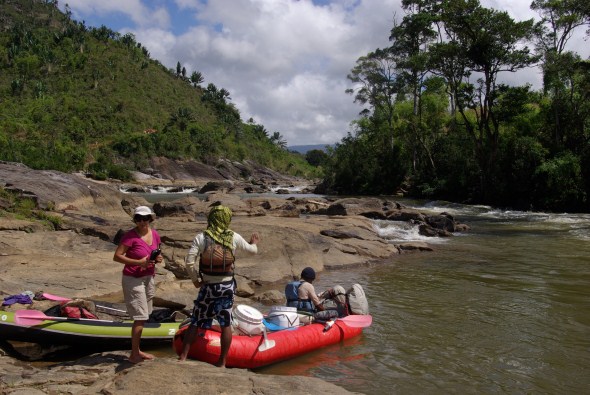 We take care of the planning and logistics
With our
Canoe tours through Madagascar
we leave nothing to chance nothing to chance. For this reason, we work exclusively with English-speaking
River Guides
together and rely on a
high quality and modern boats made in Europe
. This is already included in the price for you. The same applies to the camping material and the complete equipment. We also take care of the logistics related to your luggage. Our tours are driven by river guides and often also by ourselves several times before we
include in our offer
. In this way, we want to ensure that we can offer you the most impressive and best canoe tours without exception. In addition, we also always focus on,
focus on the extraordinary and the special
to move. Among the classics from our program is the
Tsiribihina river trip
, but also tours on the waters in the
Ranomafana National Park
or in the
Isalo National Park
far away from civilization are possible. Let yourself be drawn to this
Adventure
and take a look at our various tour proposals. Enjoy the possibility
in the middle of nature
to be and to get to know Madagascar in an extraordinary way during your vacation. If you have any questions, we are always at your side.
Boat tour in Ranomafana N.P
Boat tour in the east of Madagascar
Boat trip on the Faraony River
Boat tour in Isalo Mountains
Boat tour on the Manambolo
Klaus
konnerth1@hotmail.com