18 days on the bike through Madagascar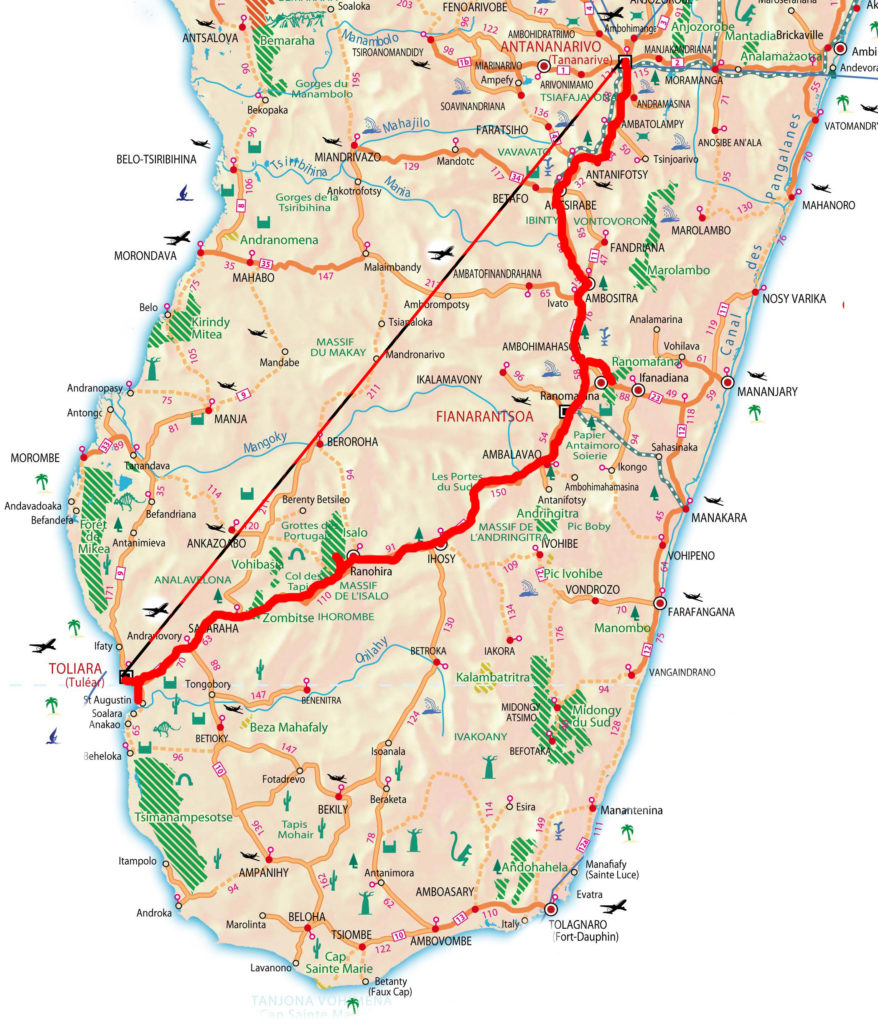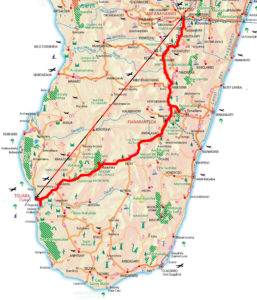 SPORTY TOUR PROPOSAL:
Madagascar is an island that can be discovered excellently on different tours. Besides the classic tours in a four-wheel drive car, which we offer you as a Theme or individual trips offer, we additionally offer you the possibility of a Journey through Madagascar to undertake by bicycle. In this way you get the unique opportunity to discover Madagascar at your own pace, to be up close to the landscape and the people and thus fully absorb the diversity of this unique country. Basically, you always have the possibility to compose different individual tours with us. However, if you are flexible in terms of route selection and individual stages, the following Tour proposal surely inspire you. It is a 18 days tour, at the end of which you will enjoy a relaxing stay on the beautiful beaches in the south of Madagascar awaits you. On the tour you will be accompanied by a vehicle throughout, so that you can set your own pace and enjoy eindividual route sections in the vehicle can cover. We offer you the possibility to rent high quality bikes from us, if you wish you can of course have your own bike flown in. The following Journey through Madagascar has been designed so that cyclists with an average level of fitness can complete it comfortably and pleasantly. If you have any questions about the following information or would like individual adjustments, please feel free to contact us directly. We look forward to helping you plan your Madagascar vacation to be allowed to meet.
Bicycle tour from Antananarivo to the Mozambique Channel
Day 1: You land in Antananarivo
The first day of your Journey through Madagascar might not be very spectacular for you at first, as you will most likely land at Ivato Airport in Antananarivo late in the evening or at night. There you will be picked up directly by your tour guide and transferred to a Hotel near the airport brought. The first Night in Madagascar you can use to mentally prepare for the upcoming tour and recover from the long flight.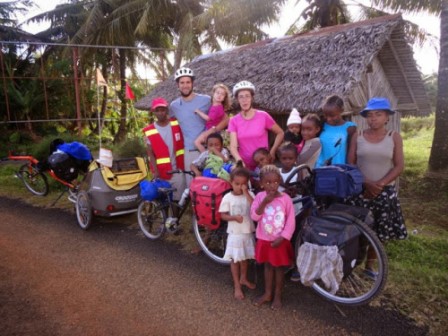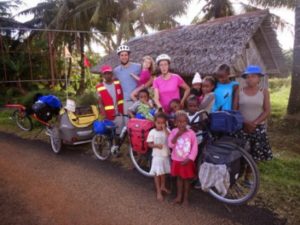 Day 2: By car from Antananarivo to Antsirabe
The first section of the route begins for you in the Madagascar's national capital Antananarivo and leads you to Antsirabe, about 170 kilometers away. This section of the route is first done by car, although if you wish you can also smaller sections can get behind you by bike. Along the way you can Stopovers at various stations to visit, for example, a factory where aluminum pots are made in a peculiar way. Antsirabe is the highest city in Madagascar and awaits you with its volcanic springs, which offer a wonderful place to relax. After your arrival, first the bicycles will be adjusted and a small bike tour to the city of Antsirabe will follow. Later then it goes to the hotel Chambres du Voyageurwhere you will spend the night.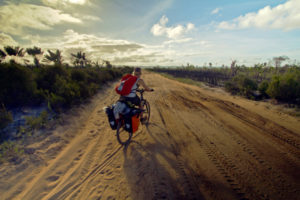 Day 3: From Antsirabe to Lake Tritriva and Betafo
On the third day of your Madagascar vacation you will do your first full bike tour. Two lakes are on the plan first: Lake Andraikiba and then Lake Tritriva. You can reach both of them on well-maintained and comfortable roads. Lake Tritriva is located on a volcanic cone and has tturquoise, slightly acidic water, in which no fish live. The volcanic cone is an ideal platform to admire not only the breathtakingly beautiful waters of the lake, but also a gigantic view over the surroundings to preserve. The landscape of the highlands presents itself as colorful and lively and offers itself as an excellent photo motif. Exactly through the landscape it goes afterwards over narrow runways to Betafo. There we recommend a short hike to explore the area on foot. The return journey is then made by car, so that on this third day you will have a Total distance of about 35 kilometers is imminent. The overnight stay is again in Antsirabe at the hotel Chambres du Voyageur provided.
Day 4: Going from Antsirabe to Ambositra
On the fourth day of your journey you will leave Antsirabe for good and head south. The slightly hilly road leads you over well developed and tarred roadsThis section of the route will not be too demanding on your physical condition in terms of difficulty. Nevertheless, on this day you will have About 95 kilometer If you wish, you can also ride in an escort vehicle. The ride will take you past many travel terraces, some rivers and also smaller villages where you can enjoy the Friendliness and the love of life of the Madagascans can get to know. Your destination on this day is Ambositra, where you can take a look at the local craftsmen. They have become famous especially for their beautiful carvings from precious woods. For the overnight stay the Artisan Hotel provided, which will welcome you with an impressive look, as it will be designed by local artists from Ambositra was.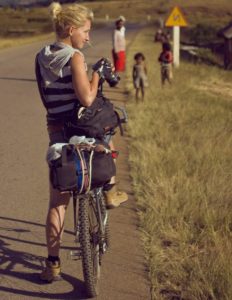 Day 5: From Ambositra to Ranomafana
First of all, on the fifth day, you will start from Ambositra with the escort vehicle, in order to shorten a little today's section of the route. This is mainly due to the fact that on this day you will be several meters of altitude to overcome have, which would be too strenuous by bike. First you will go to Ambohimahasoa and then the tour continues on two wheels. The route takes you through remote villages and fascinating landscapesuntil you finally reach the Ranomafana National Park. This national park, also known as mountain cloud forest, will immediately impress you with its fascinating flora and fauna inspire and after about 25 kilometers route you will then reach Ranomafana. The route now leads you mainly downhill until you reach the Grenat Hotel which will welcome you for tonight's overnight stay.
Day 6: Tour through Ranomafana National Park
On the sixth day you leave the bikes at your accommodation and go on foot to the Ranomafana National Park. Individual tours can be arranged with the local guide according to your wishes. The tours usually last between two and six hours and offer you really extraordinary insights into the nature of the mountain cloud forest. Bamboo lemurs, numerous bird species, reptiles and also amphibians can meet you on this tour. Afterwards you will be welcomed again by the Grenat Hotel with its comfortable beds.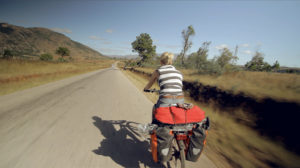 Day 7: From Ranomafana we go to Sahambavy
The seventh day you start first in the escort vehicle, so that you are spared the steep sections of the route. As soon as the route becomes flatter again, you will cycle towards Fianarantsoa. However, you will soon leave the main route and continue along a pleasant gravel road. There awaits you a Tea growing area and the Lac Hotel. There you have a breathtaking view of a lake and the various bungalows await you for the night. However, this is only in the evening on the plan. In the afternoon you can enjoy the Sahambavy Tea Plantation visit and exciting Insights into the production there win. Alternatively, we can suggest various other activities for the afternoon.
Day 8: From Sahambavy via Fianarantsoa to Ambalavao
Also on the eighth day of your Journey through Madagascar you will first start in the escort vehicle. You will go to Fianarantsoa, where you can take a look at the artful photographs of the internationally recognized photo artist Pierrot Men, among other things. The Exploring Fianarantsoa takes place on the bike, because then it goes directly to Ambalavao, 53 kilometers away. The landscape becomes more and more rocky along the way and some Vineyards line the path to the right and left. Ambalavao itself is a very pleasant small town and the Tsienimparihy Lodge welcomes you here.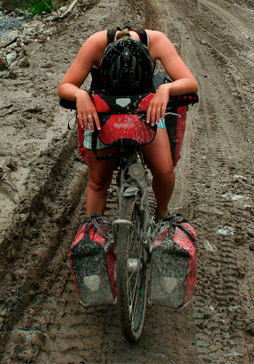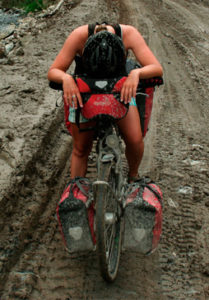 Day 9: From Amabalavao to Tsaranoro
On the ninth day you leave Ambalavao behind you and start south. It goes about 12 kilometers over a rocky pass, which offers breathtaking views. A small Village community greets you on your way and a local guide accompanies you to a small privately managed nature reserve, which is home to many lemurs and chameleons. Afterwards you will continue by bike, with the landscape now changing more and more into a Savannah interspersed with granite rocks transformed. This section of the road takes you mainly downhill and since the road is paved, this proves to be very pleasant. After a while you then turn into Tsaranoro Valley and have a 20 kilometer long section in front of you, which will take you to the Andringitra Mountains and the Camp Catta Lodge where a comfortable night's lodging already awaits you.
Day 10: A hike in the Andringitra mountain massif
Today you leave your bicycles for the time being and go directly after breakfast on the Pic chameleon. The climb will be around Two hours last and is doable even with an average condition. Once at the top, you will be amazed by a tremendous view over the spectacular mountain scenery rewarded. Decide for yourself: We organize for you a Camp overnight on the mountain or it goes back to the Camp Catta Lodge, where you can probably expect a little more comfort.
Day 11: From Tsaranoro to Ranohira
The first stage of today you will cover by bike on a paved road. It goes to Ankaramena, where you will taste some of the local specialties, sweet mano and papaya fruits, can enjoy. After that, you will first board the escort vehicle again and it will go to Ranohira via Ihosy. Towards afternoon, when you will see the huge Horombe plateau crossing, it is advisable to ride a few kilometers on a bicycle to better enjoy the spectacular scenic view. You will then reach the Foot of the Isalo National Park and the hotel Isalo Ranchwhere you will spend the night today.
Day 12: Exploring Isalo National Park
The Isalo National Park, certainly one of the most beautiful in Madagascar, awaits you today. First start on foot and explore the park with a guide. impressive mountain massif, in the middle of which there is a unique flora and fauna with numerous densely wooded sections, hidden waterfalls and a unique diversity of life hides. As always, the individual tour will be adapted to your needs, if you wish, you can then take a bike ride through the sometimes downright bizarrely rugged landscape will be offered. Also today the overnight stay takes place again in the Isalo Ranch.
Day 13: From Isalo to the Mozambique Channel
When you leave Isalo National Park on day 13, you will notice relatively quickly that the landscape is changing more and more. It now goes to Tulear and you drive under the southern tropic of Capricorn. Extremely dry scenic sections, where rarely a few drops of rain fall from the sky, present themselves as inhospitable and at the same time visually very spectacular. Ride your bike through desert-like sections and enjoy the unique scenic panorama. It goes now to a small lodge between Tulear and Saint Augustin, which is called real insider tip and welcomes you with its very special flair. The Résidence Eden Lodge will be your home for the next few days.
Day 14 and 15: The Mozambique Channel
These two days on your Journey through Madagascar are at your free disposal. You can relax on the breathtaking dream beaches in the area or, if you wish, take part in various activities such as. Sailing, paragliding, diving or a visit to a nature reserve participate. We will be happy to help you with the planning in advance. The bikes will already be brought back to Antananarivo by the escort vehicle at this time. You will spend the night again in the Résidence Eden Lodge.
Day 16: Return from Tulear to Antananarivo
On day 16 your Journey through Madagascar almost over again, because after breakfast you will first go by car back to Tulear and then by plane to Antananarivo. Depending on the flight times you will have either a longer stay with numerous possibilities to explore in Tulear or Antananarivo. This evening you will also have a meal in an exceptional restaurant and the overnight stay will be as at the beginning of your Madagascar vacation in a hotel near the airport.
Day 17: Exploration of Antananarivo and surroundings
The last complete day of your unique and unforgettable Madagascar vacation can serve you to explore the capital of the island state, Antananarivo, more closely. Also in this context we are happy to present you numerous tips and suggestions and will be happy to help you with the organization as well. Basically, we have booked a day use for this day in the selected hotel, so that you can explore Antananarivo in peace and do not have to worry about your luggage. Towards evening you will be transferred to the airport.
Day 18: It's back to Europe
The last day of your trip, depending on your individual destination, you will spend almost exclusively on the plane spend. Use this time to relax and learn from one or the other highlight of your Madagascar vacation to dream.
Facts and figures about the tour
Our bike tour is basically planned as a complete package, but depending on your wishes it can also be combined with some individual specialties be peppered. An escort, who is well educated and trained at the same time, will take the lead of this tour. If the stages become too strenuous for you or you need a little break, you are always welcome to the Support vehicle avoid. The planned routes often take you across asphalted roadsbut sometimes there are also some natural roads. In this case you should be prepared accordingly. In principle, however, the route we have planned for the Difficulty level one or two to classify. Below we presented to you the Listing of prices and the services included or not included. If you have any questions or suggestions, please do not hesitate to contact us.
| | |
| --- | --- |
| 18 days bike tour from Antananarivo to Sarondrano | Price per person |
| 2 to 3 guests | 2380 € |
| 4 to 5 guests | 2140 € |
| 6 - 7 guests | 1970 € |
| 8 - 9 guests | 1880 € |
| 10 guests or more | 1790 € |
For single rooms we have to charge a supplement of 490 € Calculate
For a rental bike we have to pay a surcharge for the duration of the tour of 260 € Calculate
A guarantee of 500€ per bike must be deposited with us, this will of course be refunded after delivery of the bikes without any problems.
Integrated into the basic price:
French or English speaking tour guide
Accompaniment and logistics
all nights in the listed hotels
Breakfast
Transfers and trips as specified
Four-wheel drive car and driver and fuel
Not integrated into the basic price:
Lunch and dinner
personal expenses
Entrance fees for Ranomafana and Isalo National Parks
individual leisure activities
Sightseeing and excursions
national and international flights
Insurances
Airport fees and taxes due, if any