The island state of Madagascar is unfortunately still one of the poorest countries in the world and is not yet completely developed from a tourist point of view. Accordingly, it can sometimes prove to be somewhat complicated to find hotels on Madagascar that correspond to European tastes and local standards. Many accommodations are rather to be described as functional and luxury resorts can only be found in selected locations. If you have a Madagascar hotel Accordingly, you should establish and compare various criteria before booking. A precise Examination of the offers is also necessary so that you can make sure that the hotels you book in Madagascar look exactly as you imagined them when you booked.
As Madagascar experts we cooperate with our Tours, individual travel and
other offers exclusively with professional and reliable hotels. If you want the comfortable variant of travel planning, decide accordingly for one of our Travel packagesbecause normally all accommodations are already included. Alternatively, you will find below a lot of important information that will help you with the Madagascar Hotels Booking can help you further.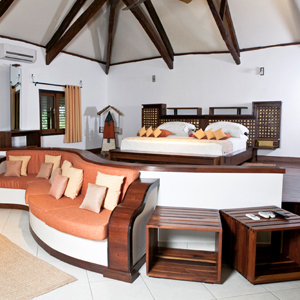 Madagascar hotels - European standards are rare
Hotels in Madagascar rarely meet the standards valid within Europe. If you want to spend your vacation in Madagascar and not necessarily plan to spend the entire time only in the luxury hotels of the resorts, you will find a lot to offer. Comfort, service and equipment sometimes have to accept some sacrifices. According to the experience of many Madagascar vacationers, however, this is rarely considered a shortcoming during the stay on the Red Island. The original flairThe cozy atmosphere and the numerous adventures that travelers can experience during their trip around the island make up for the small sacrifices made in the Madagascar hotels quickly made up for.
Notice:
Many smaller Madagascar hotelsSome of them have a very attractive standard, but it is difficult to book them on the Internet. Especially family-run guesthouses in more rural areas are often referred to as Insider tip treated and are difficult for travelers to find.
In fact, most small and family run Madagascar hotels rather functionally furnished and equipped. There is not always running water and especially running hot water is not available in a Madagascar hotel rarely found in the countryside. Often travelers are accommodated in small bungalows, which for this not infrequently with a fantastic location as well as a breathtaking view can score. For example, if you take a 20-day trip from Antananarivo to Tulear, an excellent guesthouse called Résidence Eden Lodge awaits you in the Sarondrano area. This hotel in Madagascar is still today a real insider tip and inspires with a breathtaking location directly near the postcard-perfect Dream beaches of southern Madagascar.
It is precisely these insider tips on site, which can only be booked to a limited extent in travel agencies or via the Internet, that make an Madagascar vacation to an unforgettable experience. Enjoy the hospitality of the Malagasy people and taste the local cuisine. Spend a night under a starry sky and let the surf of the ocean lull you to sleep. Insider tips as we use them for our travel offers, are important for the travel planning as well as the Madagascar Hotels Search indispensable. Experience for example one of our Theme Travel for nature lovers and benefit from accommodations in close proximity to the main national parks of the island nation.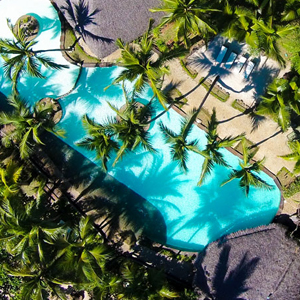 5 star hotels in Madagascar - Luxury is not neglected either
For those who are less interested in adventure during their vacation in Madagascar, and instead are looking for unique relaxation, it is of course also possible to relax in one of the Luxury hotels make yourself comfortable on the island. Enjoy the easy life in these unique and incomparable accommodations in Madagascar on paradisiacal beaches, let yourself be pampered by exclusive food and beverages as well as room furnishings geared to European standards. Of course, such Madagascar Hotels The price of the product is, however, very attractive compared to European standards.
A special opportunity for a stay in one of the best and most luxurious hotels in Madagascar probably offer the honeymoon. Newlyweds who fall in love with each other again shortly after their wedding vows on the endless dream beaches of Madagascar - it could hardly be more romantic. In our 5 days special offer for honeymoon to Nosy Be spend your romantic stay for two at Vanila Hotel Madagascar. Especially for you we reserve there one of only two so-called Prestige Apartmentswhere you will be pampered with pure luxury. Decide between a typical Malagasy interior style or choose your apartment in an African look. Enjoy the unobstructed and unique View of the open sea out, have cool drinks served on your own terrace and enjoy the view of the starry night sky from your own Jacuzzi, which is waiting for you right on the terrace. For the culinary delights are available in the Vanila Hotel Madagascar two restaurants to choose from, where the French chefs will spoil you exquisitely.
| | |
| --- | --- |
| Prestige apartment | Vanila Hotel Madagascar (Nosy Be) |
| Own terrace | ✔ |
| Jacuzzi under the open sky | ✔ |
| Sea view | ✔ |
| King size bed | ✔ |
| Air conditioner | ✔ |
| Access to the spa | ✔ |
Another offer for an attractive hotel in Madagascar can be found in our travel catalog for newlyweds: In our 4 days special offer on Nosy Be spend your time in the Ravintsara Wellness Hotel. This 4-star hotel will delight you not only with breathtakingly equipped VIP Bungalows as well as an incomparable construction method, which allows architecture and natural vegetation to merge into a harmonious symbiosis. And also our 10 days special offer for the east coast offers you dreamlike and unforgettable overnight stays in unique Madagascar Hotels. For instance, discover Vakona Lodge right next to Andasibe National Park and dream as a couple at the impressive Palmarium Hotel. Various other lodges and hotels in Madagascar that can be rated as highly recommended are Adonys Eden Lodge, Tamboho Hotel Madagascar and also Royal Beach Hotel Madagascar.
We will be happy to assist you in choosing a hotel in Madagascar and provide you with further tips and information upon request. We also invite you to visit our individual travel packages with included overnight stays to take a closer look at selected Madagascar hotels. Personal wishes and ideas can be easily incorporated into most of our tours. Just get in touch with us.