The official currency of Madagascar since January 1, 2005 is the Malagasy Ariary (MGA), this currency was reintroduced under the first mandate of Marc Ravalomanana to replace the Malagasy Franc (Franc malgache). This currency was first introduced in 1961, 1 Ariary is worth 5 Malagasy Francs. The banknotes still show in small print how many francs they were worth to avoid misunderstandings.There are banknotes of 10,000 Ariary (MGA), these are the largest banknotes in existence and the current
Value of this banknote is about 3€. In bills there are 5000 Ariary (MGA), 2000 Ariary (MGA), 1000 Ariary (MGA), 500 Ariary (MGA), 200 Ariary (MGA) and 100 Ariary (MGA).
There are even aluminum coins in circulation, but of such low value that if they were made of a more expensive metal, the weight of the coins in the value of the metal would certainly be worth more than the currency itself.
The inflation rate is very high and therefore I give the following exchange rate only as an example, the respective exchange rate can be found on Internet.
10000 Ariary=50000 Franc (former Francs)=3€
5000 Ariary=25000 Franc =1,50€
2000 Ariary=10000 Franc = 0,60€
1000 Ariary= 5000 Franc = 0,30€
500 Ariary= 2500 Franc = 0,15€
200 Ariary= 1000 Franc = 0,06€
100 Ariary= 500 Franc = 0,03€
Important: Although the Madagascar franc has officially ceased to exist since 2005, prices are still very often quoted in the old currency, mainly in rural areas, at markets but also in some hotels or in conversations with the inhabitants.
For inexperienced travelers the two currencies, that is the valid one in Ariary or MGA and the one that has not existed for almost 10 years (Franc Malgache) are very difficult to understand and to convert. One must be always sure whether the indicated prices are in Ariary or in Franc in order not to pay the 5-fold price if something was offered for example in Ariary and is paid mistakenly in Ariary.
So not an easy matter if you are used to strong currencies like Euro. There are several ways to get the local currency upon arrival.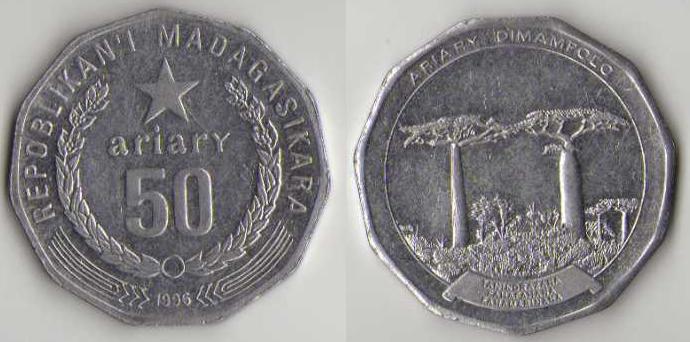 at the airport are several banks that exchange at the official rate, but this may vary in different banks.
There are also 4 exchange offices, one in the parking lot on the left, one in the domestic hall which usually offers the best rate and two others in the international area where the two banks are also represented.
You will also be immediately approached to exchange money on the street or at the airport, but exchanging money at the illegal market is illegal and hardly advisable unless you know someone well.
Probably the best exchange rate you can get for all major currencies is when you exchange large bills, 50€ to 500€ bills are more in demand than 20€, 10€ or even 5€ bills, this fact is especially relevant in the exchange offices and illegal exchange rate.
Traveler's checks have a bad reputation and are a time consuming adventure if you get them accepted at all.
At BNI / Credit Agricole you need the original receipt of the purchase with the serial numbers of the checks you want to exchange. The verification can take hours or even be impossible in case of internet problems.
Nevertheless, the banks BNI / Crédit Agricole are still the most recommendable if you depend on the exchange of traveler's checks.
ATMs are now already available in all major cities, but the amount is usually limited to a maximum of 150€, only Visa cards are usually valid. Master Card is only accepted at the branches of BNI, otherwise this card is not valid anywhere. Other cards will not even be accepted. Of course, you can repeat the transaction as many times as you like, but you will be charged by the correspondent bank each time. Some banks in Tana offer you the possibility to apply for larger amounts over the counter but this is a very long and time consuming process that you probably would like to avoid.