Enduro Sport Tour - From the Highlands to the Deep South
11 days - (9 on motorcycle) - 1460 km
DIFFICULTY: HARD
This tour is also one of long version bookable without domestic flight.
ENDURO SPORT
Madagascar's low road density has created an extraordinary network of dirt roads. Covering an area as large as France and Belgium combined, every town and village in Madagascar is connected to an extensive network several hundred kilometers long. Five thousand kilometers of coastline and seven peaks, each over 2,000 meters high, mountains and desert - Madagascar is a lot of fun!
Welcome to our Baobab Tour!
Tour description
Welcome to Madagascar! We offer this 9-day tour especially for bikers who already know about off-road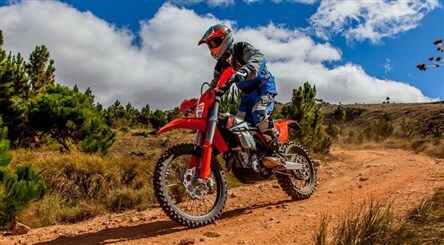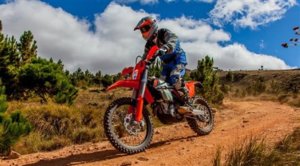 Have experience on the motorcycle. To safely master the route and the crossing of the landscapes, sportsmanship and a minimum of technical ability are required. Sometimes the red laterite shows hard as concrete, and sometimes it becomes an ice rink when rain comes into play. And the sandy slopes are no child's play either. Every day will be a small effort. But the fascinating enduro route from the capital Antananarivo in the highlands to the vistas along the Mozambique Strait is worth every drop of sweat.
Duration and length of the tour
11 days / 10 nights, including 9 days on the motorcycle
Destination: Southwest of Madagascar
Total distance: 907 miles (1,460 km)
Milestones along the way:
Thermal springs of Antsirabe
Visit of the over 250 km long Baobab avenue
Visit to Kirindy National Park
Sand dunes and beaches in the bay of Salary
Coral reef and market life in Ifaty-Tulear
Day 1: Arrival in Antananarivo
Our team will greet you immediately upon arrival at Ivato International Airport and transfer you to your hotel. Villa Sibylle is a private guesthouse near the airport, surrounded by a tropical garden. Relax from the flight and enjoy your first dinner there in Madagascar with an overnight stay.
Day 2: From Antananarivo to Ampefy
Route length: 100 miles (160 km) on asphalt and dirt roads
It's time to get to know your motorcycle and your guide. Look forward to your first ride: you will leave the busy and somewhat chaotic streets of Antananarivo and head west on a good road between majestic mountains and rice fields. On the way you can visit the fascinating lemur park. Around Ampefy there is the possibility to discover Lake Itasy, volcanoes, geysers and waterfalls. Dinner and overnight at Farihy Hotel.
Day 3: From Ampefy to Antsirabe
Route length: 93 miles (150 km) on asphalt and dirt road
On the third day you will experience the unique thrill of the roads and tracks. You will cross beautiful landscapes with rice fields interspersed with a variety of villages with typical architecture. After this long journey, you will arrive in Antsirabe in the afternoon. Antsirabe is the highest town in the country at about 1600 meters above sea level. There are very beautiful lakes of volcanic origin there. Dinner and overnight at the hotel Chambres du Voyageur.
Day 4: From Antsirabe to Ambatofinandrahana
Route length: 100 miles (160 km) on asphalt and dirt roads
After a restful sleep, you will leave Antsirabe at sunrise heading south. You will drive until Ivato-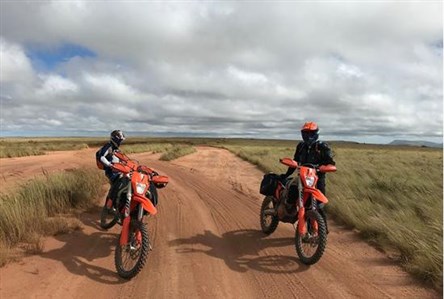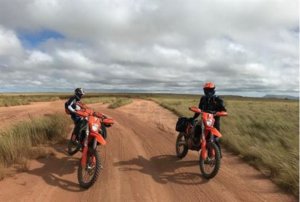 Centre the Route nationale 7 (RN7) and then switch off the only connecting road to the slopes at the foot Itremo mountains. Now your slope adventure in Madagascar begins! Dinner and overnight at the "Hotel du Marbre", the only hotel in Ambatofinandrahana.
Day 5: From Ambatofinandrahana to Morondava
Route length: 236 miles (380 km) on laterite, sand and asphalt
Getting up early will soon be rewarded by beautiful mountain trails. The gates of the great West open before you as you cross the mountains of Itremo and its highest pass at over 2000 meters. The descent to the west coast offers pilots spectacular landscapes off the beaten track. Dinner and overnight at the Hotel Kimony Lodge in Morondava.
Day 6: From Morondava to Kirindy
Course length: 51 km on sand
The short but intense day's drive takes you through the sands of the famous Baobab Avenue, past majestic ancient baobab trees. Afterwards, visit Kirindy Reserve with a unique endemic ecosystem and resident fossas, a native predator species. Dinner and overnight at the Kirindy Resort Hotel.
Day 7: From Morondava to Manja
Course length: 68 miles (110 km) on sand
In the morning one of the most intense stages of the tour starts in Morondava. The day begins with the impressive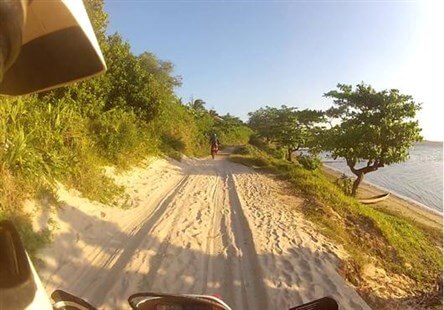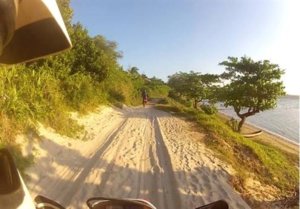 Crossing the Kabatomena River, which is over 50 meters wide. The route then continues through a scrubland to the Belo Salt Lake. At high tide, crossing the salt lake can be difficult or even impossible. Our way leads us even further through the wilderness to the stage destination in Manja. The only hotel in town does not have much to offer, but is very pleasant and relaxing after the rather difficult stage in the deep sand. Dinner and overnight at Hotel Kanto.
Day 8: From Manja to Andavadoaka
Route length: 136 miles (220 km) on laterite and sand
We start in the morning for a hard day on the motorcycle. Routes with different technical requirements await us: sometimes sandy, sometimes hard laterite with termite mounds and sometimes stony track. Look around and enjoy the savannah landscape with huge baobabs and euphorbias that extends to the banks of the Mangoky River. Cross the river on a ferry and continue to Andavadaoka. Dinner and overnight at Hotel Manga Lodge.
Day 9: From Andavadoaka to Salary
Course length: 43 miles (70 km) on sand
This is the shortest daily stage on one of Madagascar's most difficult routes. Along a beautiful coastline dotted with baobabs lie the largest and most pristine sandy beaches imaginable. There is no way to stop along the way or you will be stuck in deep sand. Concentration and technique are required. Serenity you will enjoy in the evening. Dinner and overnight at the Salary Bay Hotel.
Day 10: From Salary to Tulear
Route length: 62 miles (100 km) on sand and laterite
The dirt road widens. We will encounter huge bush trucks transporting people, cotton and other goods on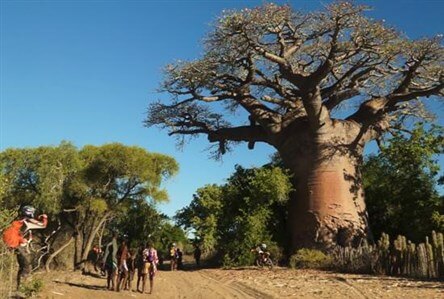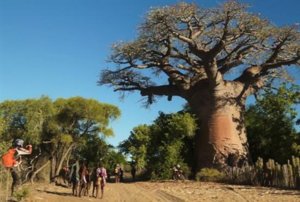 transport overflowing platforms. Today you will have to drive a little more leisurely: It's market day in many of the villages we pass through. You will have to use the horn more often to get through. Large sand dunes announce our arrival at the coast. When you arrive at the fishing village of Ifaty, you can relax on the beach before reaching Tulear as your final destination. Dinner and overnight at the Moringa Hotel.
Day 11: From Tulear to Antananarivo (domestic flight)

A cab will pick you up from the hotel and take you directly to the airport.
End of our services.
Checklist
Please stay with your luggage under 45 lbs weight (equivalent to 20 kg)
Bags:
A duffel bag is ideal, a hiking bag is also suitable (without steel bar). You can secure your bag with a padlock. Please remember to mark the bag with your address and the address of MTM.
A small backpack with a capacity of 20 liters is good for everyday necessities, such as the camera and sunscreen.
Sleeping bag:
warming sleeping bag
A mattress is provided on site for overnight stays. If you want more comfort, please bring an extra foam mattress.
Beds, mattresses and comforters are available on site. Additional comfort such as pillows depends on each fellow traveler himself.
Clothing and personal equipment:
two light pants
four shirts (also with long sleeves for sun protection)
a swimsuit
Sweater or jacket for cold nights
Sunglasses
Hat
Lightweight sports shoes
Flip-flops
Flashlight with batteries
Candy and cereal bars
Drinking bottle (1 liter)
Special motorcycle clothing:
Motorcycle boots or waterproof trekking shoes are highly recommended
light leather or synthetic motorcycle jacket
Rain cover
Gloves
Helmet
Personal medicine and body care:
Sunscreen
Lip balm
Broad-spectrum antibiotic
Painkillers (paracetamol)
Anti-diarrheal agent (Imodium)
Elastoplast
Means for skin disinfection
Bandages and special bladder bandages
Our services to you include:
a KTM 350 EXCF 2017 rental enduro, equipped and prepared
an experienced tour guide
Transfers ashore as described in the program incl. transfer from the airport to the hotel and back
a 4*4 escort vehicle with driver to transport luggage and tools
Liability insurance
Accommodation in hotel (double room, equipment or star category according to your choice)
Full board (breakfast and dinner at the hotel, picnic basket at noon)
free entrance to all parks and excursions as described in the program
 Not included:
mandatory insurances, such as for repatriation in case of a motorcycle accident in Madagascar, and legal advice
Visa fees
domestic and international flights incl. airport cabs
a refundable security deposit for the motorcycles in the amount of 2,000 euros
Meals during the transfer days
Drinks, personal expenses and tips
Entrance fees for additional excursions