The Manjakamiadana Palace
The Rova from Antananarivo is the former royal palace of Madagascar. It is located at an altitude of 1462 m on the highest elevation of the capital, the Analamanga, and is thus almost 200 m above the quarters of the lower town.
The Manjakamiadana Palace was built between 1839 and 1841 by Jean Laborde, one of the few foreigners,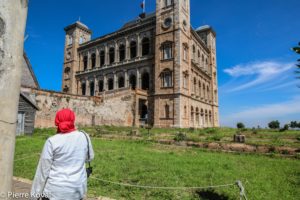 who was at the court of Queen Ranavalona I. (1828-1861) were present, built. Following the tradition of the time, the palace of Manjakamiadana was to be built entirely of wood (stone buildings were for the dead).
A revolution that began during the reign of Ranavalona II (1868-1883), when she lifted the ban on non-plant construction. She allowed her subjects, as well as the missionaries, to build houses of brick or stone. James Cameron, architect and missionary of the LMS (London Missionary Society), took over at the request of Ranavalona II. Stone facing work on the Manjakamiadana Palace. The reason for this renovation of the palace was that the forest disappeared and the palace was slightly inclined. The renovation work began in 1868 and ended in 1873.
The Palace of Manjakamiadana is commonly referred to as the Queen's palace in terms of Queen Ranavalona I.
Not far from this palace was the Tranovola Palace (the palace no longer exists today). La Tranovola was built in 1820 by the French carpenter Louis Gros at the request of King Radama I (1810-1828). La Tranovola iwas the first building in Antananarivo with a floor and a veranda.
The two palaces and other surrounding buildings burned down on November 6, 1995 and is still being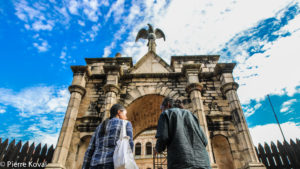 endlessly restored, but the site can be visited....
The Rowa (fortified palace) of Tana, known as Manjakamiadana (A beautiful place to govern), is the imposing structure that crowns the highest hill in the city.
The palace gate is protected by a carved eagle, the symbol of military power, and a phallus, the symbol of circumcision and thus nobility. Successive rulers built (and destroyed) a number of other palaces on the site; ruins are scattered about. There is also a replica of the palace of King Andrianampoinimerina in Ambohimanga.
The Rova is the resting place of the greatest monarchs of the country: The most imposing stone tombs are located to the left of the main gate. The plain gray ones are those of the kings, while those of the queens are painted red (red was the color of the nobility).
Remember that it is Fady (taboo) is to point your finger directly at the royal tombs or the palace itself. The Rova, which can be seen from almost everywhere in Tana, the Rova is located at the very top of the upper city with a wonderful view from the site.
Despite what they tell you at the gate, a guide is not mandatory.