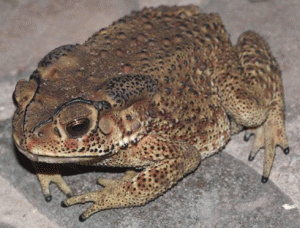 Plague on the east coast
For quite some time now, the East of Madagascar against the proliferation that has become uncontrollable spiny toad fight. This species, originally not native to the island, was first found near the port city of Tamatave (Toamasina) sighted in the east of Madagascar. From there, within a few weeks, they have moved very quickly to Vatomandry and Brickaville widespread. It is assumed that the amphibians, which originally come from Asia, were introduced to Madagascar by container ship. The animals find optimal conditions to reproduce in the humid, tropical climate of the island. Since they also spawn twice a year, laying 40,000 eggs each time in humid areas and estuaries, and do not shy away from polluted waters, within a very short time they have become a Threat to native biodiversity become. Due to their rapid reproduction, they displace the overall 290 native toad species from their habitat, many of which are native only to the red island. Fortunately, local authorities quickly became aware of the problem. After noticing the rapid increase of amphibians in the eastern region of the big island, increased sanitary controls were immediately announced in the port of Tamatave. Whether these measures are effective will have to be seen in the future.
Caution is advised!
In any case, care should be taken when encountering this species of toad, as it can produce a milky, foul-smelling toxin release. The toxins can lead to Irritations in the breathing area, in the eyes and on the skin lead. Also, avoid consuming the eggs or meat of the animals, as this can potentially lead to serious illness.