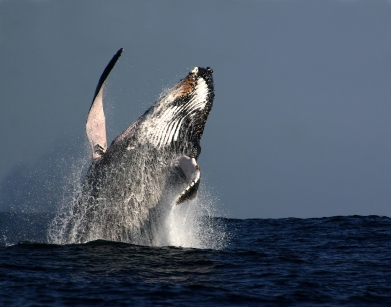 Whale watching on the coasts of madagascar
In the middle of the southern winter, from End of June until beginning of September one of the most fascinating natural spectacles in the world takes place on the coasts of the Indian Ocean and thus also on the coasts of Madagascar. In large groups of humpback whales migrate every year to warm, tropical latitudes to give birth to their young. Most of the year, the giants of the ocean spend in Antarctic waters. These cold seas are also home to Antarctic krill, which is the main food of the large marine mammals. Only to the Pairing and around their Give birth to calves the peaceful giants glide into the protected waters of the Indian Ocean. During these months, the whales do not take in any further food, but live exclusively on their reserves. Even though the annual migration is thus a challenge for these large animals every time, it is necessary because the whale calves would succumb to cold shock in the cold waters of Antarctica immediately after birth. The up to 15 meters long and 45 tons heavy animalswhales are extremely caring when it comes to caring for their young. Thus, whale mothers swim steadily in close proximity to their newborn calves during their first migration.
Get up close to humpback whales and their pups
Along the coasts of Madagascar you can see these incredible animals passing by and even get relatively close to them, as humpback whales are extremely peaceful are. Since you should not disturb the animals, you should in any case consult an experienced guide who can well assess what distance is appropriate to the Respect the animals. As a visitor, it is not always easy to assess which provider is competent and makes a serious offer. In this case you can rely on the Offers of some hotels enter, arranging whale watching in very good conditions. Also Diving schools are mostly equipped with safe and well-motorized boats and offer such tours in winter.
It is particularly fortunate that the whales are found in all coastal areas, i.e., both on the East Coast as well as at the West coast of Madagascar, can be observed daily. Especially popular are Ifaty, the Saint Augustin Bay in the south of Madagascar. Also from the coasts of the Nosy Be Island whales and other marine mammals such as dolphins can be marveled at.
Sainte Marie, a delightful island located off the east coast, is probably the most famous place to get close to whales. But also the bay of Antongil a little further north is absolutely recommended. The prices of these excursions vary greatly and also depend on how far they are from the coast. As Average price I would say about 25€ per person for a tour that lasts about 1.5 to 3 hours. However, this figure is at best a guideline. Prices that are significantly higher are not uncommon.