Man made
Many travel guides and information sites that serve as a point of contact for tourists who want to find their next Madagascar vacation plan, still provide their readers with a lot of false information. They tell in detail about the Geysers of Andranomandraotrawhich are located somewhat southwest of the capital Antananarivo near Analavory. They report that the water spouting from the unusual rock formations is heated underground by hot volcanic rocks. At the same time, neither steam nor hot water comes spurting out of the geysers of Andranomandraotra. Also the bubbling fountains are by no means always visible. Sometimes the water bubbles out of the alleged geysers only 30 to 40 centimeters high. Nevertheless, the geysers of Andranomandraotra are a fascinating spectaclewhich you should not miss on your trip through Andranomandraotra. We would be happy to welcome you at one of our Individual travel or our Theme Travel with start and finish point in Antananarivo by the geysers, so that you too can get a glimpse of these amazing rock formations.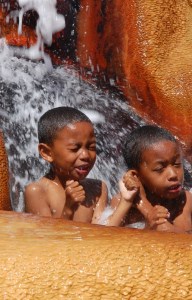 Underground pipes provide a real spectacle
The most fascinating thing about the geysers is certainly the color of the rocks: yellow and brown they strongly resemble sulfur, but the water from the geysers is absolutely odorless and anything but toxic. Playing children can be discovered again and again in the hand-warm water. This may be due to the fact that the alleged geysers are a phenomenon that is man-made was. In order to drain the nearby argonite mines, numerous iron drainage pipes were laid. The groundwater in this area is very warm and contains a lot of carbonic acid. Both of these factors cause the lime and rust in the pipes to slowly but surely dissolve and enrich the water. While the carbonic acid bubbles to the surface, the lime is deposited and provides the impressive shape of the cones, which are always mistaken as geysers. The rust from the pipes, also deposited in the water, in turn provides the distinctive color of the cones. As the carbonic acid rises to the surface and the openings become smaller and smaller thanks to the depositing lime, the so-called bubble-bottle effect results, which has been misinterpreted by some experts in the past. Time and again, blockages occur at the openings, which then extra large water fountains is created when the plug loosens under the water pressure and the lukewarm water shoots explosively to the surface. A few years ago were Fountains up to several meters possible. If you are interested in this exciting mixture of unique natural spectacle and human influence please do not hesitate to contact us. At our different tours we can gladly make a stop, because an exciting and unusual photo motif offer the Geysers of Andranomandraotra all the time.