Tours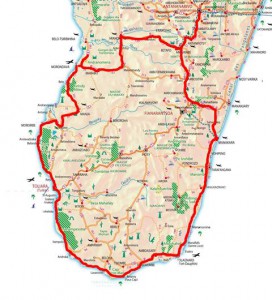 The tour proposals listed here represent only a small selection of the infinite possibilities that Madagascar has to offer. These are "classic" tours, which should offer especially the "newcomer" to the red island in a relatively short time the widest possible spectrum of unforgettable impressions and experiences.Of course, I will also put together your own personal dream trip. This will be planned and facilitated with the guests according to their wishes and expectations on an individual basis or as a group tour - no matter which thematic focus you prefer.
The highland route from Antananarivo to Tuléar, with or without detour to the Indian Ocean, offers the most possibilities and by far the greatest variety of fauna and flora. We prefer trips to Madagascar that are hidden in the wings of the usual itineraries. Over the many years we have located enough insider places so that we can offer the most extraordinary tours in Madagascar:
Photo safaris, trips with children, trips for botanists or fauna specialists, mineral trips, sporting trips on land, in the air or on / under the water, beekeeping trips, trips for people with disabilities and very much more. All this is not in the descriptions of the tours, but I am always available for quick and detailed answers on all topics concerning Madagascar.
I guarantee you an unforgettable stay!